FULL ACRYLIC BEGINNERS KIT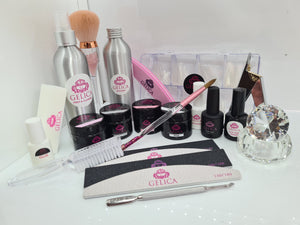 FULL ACRYLIC BEGINNERS KIT
Tax included.
What this includes
Clear Powder 50g
White Powder 50g
Cover Pinkie Powder 50g
Cover Blush Powder 50g
Monomer 250ml
Acid Free Primer
Prep/Cleanse
Cuticle Pusher
Nail files x 4
Buffer x 2
No Wipe Top Gel
Acrylic Brush
Dappen Dish 
Tips 500 box
Glue
Tip Cutters
Cuticle Oil
Dust Brush
items may vary 
Gelica is the UK's leading Nail Product supplier to leading nail techs and salons.

Our Gel's are highly pigmented and most of our colours only require one coat for fantastic coverage! Our Top Coat contains mirror high shine technology and our Matt top coat stays Matt for weeks. Gelica specializes in providing beauty salons, nail salons and spa's with high-quality gel polishes, nail enhancement products and other nail art and nail salon supplies.

To stay updated on our other upcoming items and special events, make sure to follow us on Facebook and Instagram!